So for the big night out in Manchester I'm wearing the gold xmas dress, as shown in this awful family friendly picture with my half naked brother, taken by my mom...


I got some shoes in the faith sale, which attracted me as my faithful blue mjs are biting the dust rapidly, and my white mjs just don't go with gold...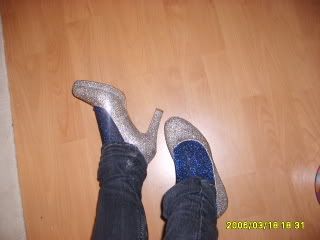 I swear the shoes looked gold in the shop...
Hmmm....
I suppose I can get away with it!
They were reduced from £40 to £30, and are a more sequin glitter, rather than cheap sprayed on glitter. Rather high too, but you know how I like skyscrapers!