Daniella Fruitella and I found that there wasn't much to do in Birmingham this NYE. Well, there is, but we can't get into those places :(
So we evaluated alll the clubs in England (practically) and found 42nd Street in Manchester to be the most suitable.
We are going to dress up like we never have before! I've been collecting inspiration from facehunter, myspace.com/upthebracket and myspace.com/that_girl_kesshia...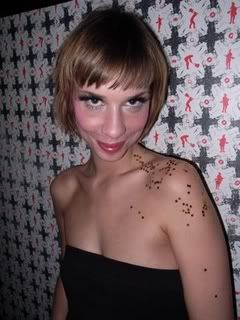 We're going for a 90's vibe with some sparkle!
I've been out 4 times this holiday, but have returned to the festive yet safe option of my red puffball dress. On boxing day I wore a gold lame dress with a net underskirt for ultimate poofiness, which I'm wearing to Manchester also! I feel like a christmas cracker...!