You know you're a little too obsessed with clothes, and the like, when you take a 40 minutes journey each way from college to town and back again in your lunch break, for just an hour of browsing. I did have to return something though, so there was a purpose.
I've spoken before about the new-ish huge vintage warehouse about 5 minutes from the Bullring (huge shopping centre). The fashion obsession may be a proved psycho problem as I practically ran to the shop on it's first day open just to get the best pick of hundreds of items. It's a massive place, holding looooads of every kind of vintage item from 80's diamond bejewelled jackets to sequin bubble dresses to lacoste cardigans to levi jeans.
Your average vintage shop is tiny and eclectic, holding overpriced floral polyester day dresses and neck scarfs, complete with a snooty assistant who will watch you as you browse and touch their pretty things, with an 'I art more vintage than thou' expression. Yes, it's not all shops, but it's usually true. The overpriced point is always true. In the yellow shop the front wall is glass, and the ceiling is so tall that you can get lost in the rails and hunt without disturbance. There are rails and rails and rails of stuff; there must be about 500 pairs of shoes! Everything in in colour order, and it's about £10-20 a dress, and under £5 for bags. You wouldn't leave empty handed- it's totally well worth a £4 national express coach trip (pay child fare- they never check!!)
I bought a 60's smock dress/top, which I was hesitant about because it's the kind of thing the high street are ripping off. I'll photograph it tomorrow. Here are a few snaps of the shop, which really don't do the size justice. Just compare it to the average indie boutique.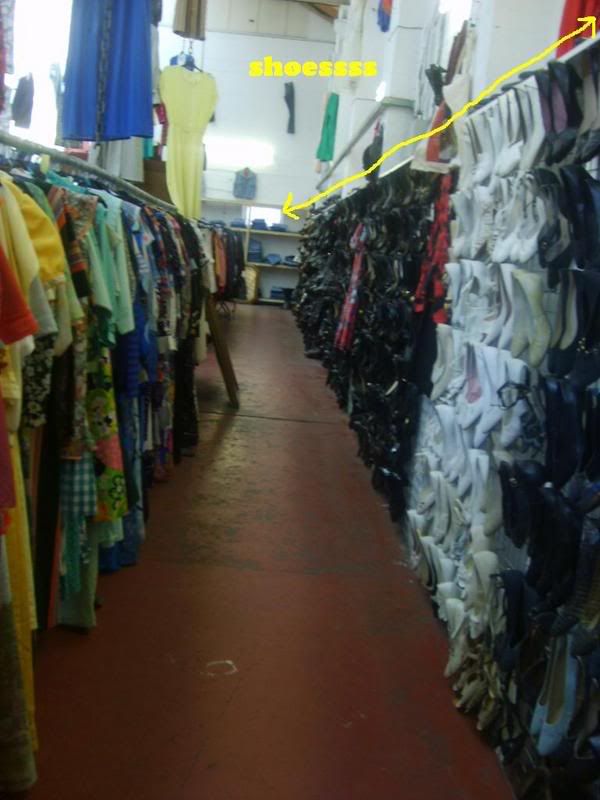 Also, Melissa looked super cute today!